GSI Corporation: Contact Us
Please contact GSI Corp. for:
Questions about our products
Questions about our capabilities
Request for Quotations
Other... (no sales marketing please)
Address
GSI Corporation
1917 Greenspring Drive
Timonium, MD 21093-4178
Hours of Operation
Monday - Friday 07:00 a.m. - 05:00 p.m. (EST)
Phone: 410-252-1768
Email: GSISales@GSICorporation.com
Driving Directions
I-95 N. to I-695 N. to I-83 N.
Exit 1 to Timonium Rd.
Right on Greenspring Dr.
Contacts:
Joseph Petrella
President and CEO
Program Manager and Sales
Phone: 410-252-1768 Ext: 111
William Rigler
Vice President
Director Of Manufacturing
Phone: 410-252-1768 Ext: 113
Rick Dellospedale
Director of Quality
Shipping and Receiving Manager
Phone: 410-252-1768 Ext: 115
Tina Drewry
Controller
General Administration
Phone: 410-252-1768 Ext: 114
Marcus Davis
Program Manager and Sales
Information Technology
Phone: 410-252-1768 Ext: 112
All sales require a $100.00 minimum order.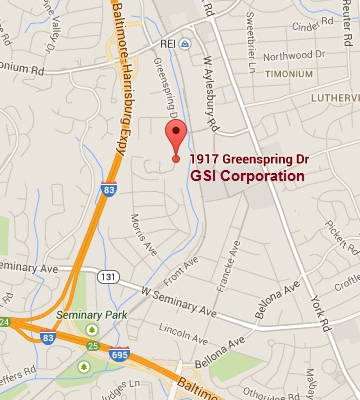 GSI Located in North Baltimore County - Maryland
Click on the link above for online map.